+7 495 795-04-95


More than just logistics!
Расчет стоимости
перевозки
New warehouse
Dreams Become Reality!
DAS GLOBAL LOGISTIK is developing rapidly year by year, conquering new peaks and covering more and more market segments. The corporate branch network is present in the main federal districts of Russia and helps us to arrange competent logistics and offer network solutions for cargo tracking and tracing.
DAS GLOBAL LOGISTIK is also present in the Far East and has its Separate Division in Vladivostok and Khabarovsk. Vladivostok belongs to the multi-modal transport hubs of Russia's federal level, as it is the largest logistics hub, which provides cargo turnover for Russia with Asian countries. DAS GLOBAL LOGISTIK provides for uninterrupted cargo shipments (import/export) through Vladivostok, Nakhodka, Vostochny and Blagoveshchensk from Asian countries.
It is no secret that the large-scale construction of a strategically important facility for the Far Eastern region and the domestic shipbuilding industry, the Zvezda Shipbuilding Complex, is now underway.
The construction process of such an ambitious project requires a great number of special machinery and professional equipment to launch the project on time. Industrial equipment and building machinery are delivered from various countries and DAS GLOBAL LOGISTIK as an international transport company certainly has all the possibilities to deliver the required equipment to the construction site as quickly as possible.
Today, DAS GLOBAL LOGISTIK arranges regular deliveries of oversized, heavy and out-of-gauge cargo to the shipbuilding complex "Zvezda", namely industrial machine tools, metal processing and cuttine lines, lifting devices, industrial equipment and special machinery (Pictures 1, 2, 3).
An out-of-gauge cargo item is shown in the picture: a mobile unit elevator TTR 60 (2 units) - VT equipped with an electric motor and hydraulic cylinders to support and move the load horizontally and a hydraulic motor for movement. The cargo was transported along the following route: South Korea – Vladivostok – SSC "Zvezda" plant. Each mobile unit elevator has a lifting capacity of up to 60 tonnes and more and is used in the shipbuilding industry to move units for the welding of separate ship parts. It is used in various climatic conditions, including in the Extreme North in all weather conditions.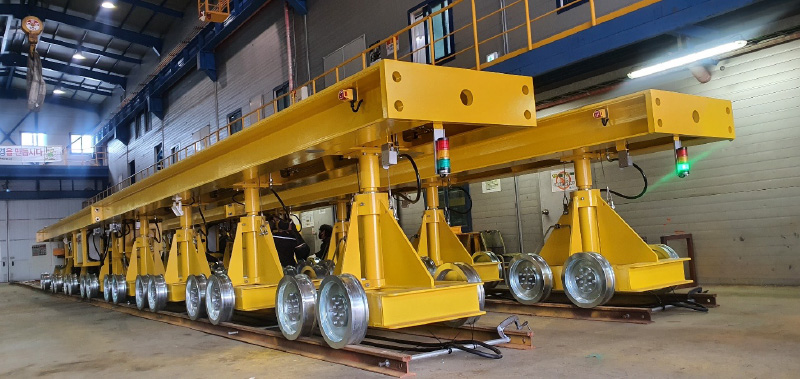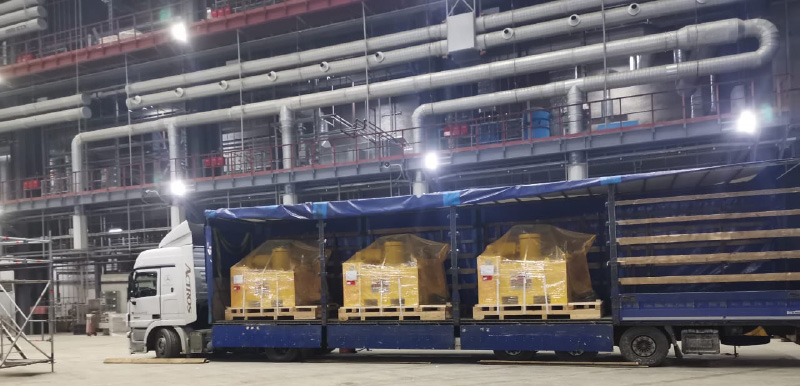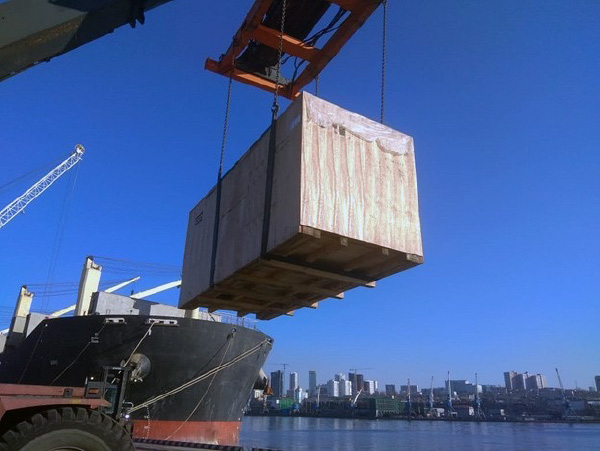 Cargo traffic safety is a priority for DAS GLOBAL LOGISTIK (SAFETY FIRST). Large international industrial companies trust us with their shipments, because we not only ensure safe transport and security along the entire route, but we also respect delivery deadlines.
DAS GLOBAL LOGISTIK always offers a transparent freight insurance system for the entire door-to-door transportation of equipment and special machinery, as well as clear financial security and obligatory freight information support. Since 2012 DAS GLOBAL LOGISTIK as a registered customs representative (Certificate No. 0461/03 dated 17 April 2018) has been rendering cargo customs clearance services for 12 customs procedures.
We are pleased to know that DAS GLOBAL LOGISTIK is contributing to the development of the large-scale shipbuilding and ship repair industry through its participation in the construction of such ambitious projects as the SSC Zvezda.
What is the SSC "Zvezda" project about?
SSC "Zvezda" is a project of strategic importance for the Far Eastern Region and the national shipbuilding industry implemented under the authority of the President and Government of the Russian Federation by the Consortium of Rosneftegaz JSC, PJSC Rosneft Oil Company and Gazprombank JSC. The largest shipbuilding complex in the country is being created in the Bay of Bolshoy Kamen, Primorsky Krai on the basis of the Far Eastern Shipbuilding and Ship-Repairing Centre (FESSC) and the Far Eastern Shipyard "Zvezda" (Picture 4).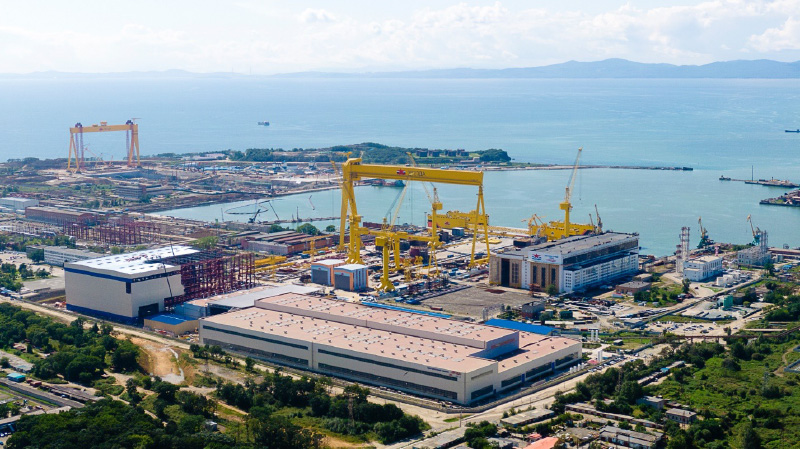 SSC "Zvezda" is the first Russian shipyard of large range shipbuilding, which is capable of meeting the needs of Russian clients for the construction of off-shore facilities to ensure the production of natural resources on the continental shelf of the country, including drilling rigs that are designed for year-round work in the Arctic, as well as commercial vessels for transporting goods by internal and external sea routes, gas-fuelled tankers and meeting all the latest environmental standards (Picture 5).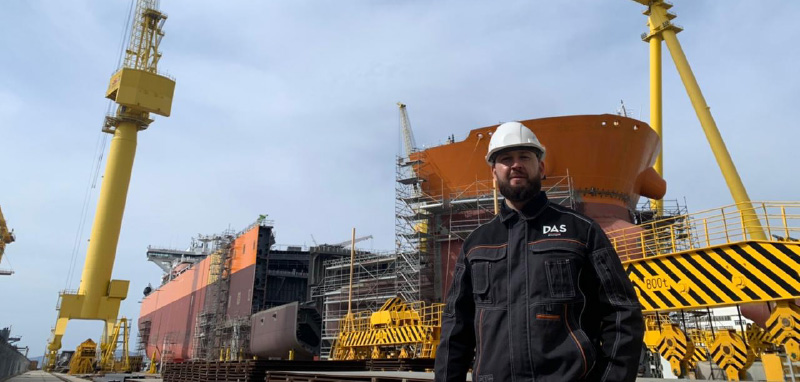 The shipyard portfolio already comprises more than 50 vessels of various ice classes, including ARC 8, which is one of a kind in the world as it will traverse perennial Arctic ice and provide year-round navigation for ships.
In view of the above, SSC "Zvezda" is truly a large-scale and very important project, which targets the development of the Russian shipbuilding industry.
Learn from project cargo and right now about all the opportunities offered by DAS GLOBAL LOGISTIK. Our experts will consult you on all issues related to transportation, customs clearance and document support of cargo along the entire route. SAFETY FIRST is of absolute priority for DAS GLOBAL LOGISTIK.
Point of Contact in DAS GLOBAL LOGISTIK LLC:
Pavel Sychev, Deputy General Director for Business Development
Mob.: +7 919 991 10 33
Tel.: +7 495 795-04-95, extension 126
Email: pavel.sychev@dasglobal.ru